Macbeth is definitely my favorite Shakespeare play…so far (I am more widely read in Shakespeare than the average person, but I am still woefully ignorant of the entire Shakespeare canon). However, spending any time at all among Shakespeare's works quickly enlightens us as to why the Elizabethan playwright is so profoundly famous and global: his fantastical use of history, myth, and folklore as the backdrop to his stories; his ability to tap into the human predicament with violent images and lovely romances; his wordsmithing and timeless passages. All these and more have made his legacy timeless. We may not all be the lovesick youth of Romeo and Juliet. We may not all be the desperate and revengeful Danish prince, Hamlet. But Shakespeare has tapped into the universal human longings for love and justice, the plots in all of our lives that merely take various forms.
This morning I was reading in Jerram Barrs' Echoes of Eden, and in his chapter "Shakespeare and a Christian Worldview," Barrs goes into a more thorough examination of Macbeth. This of course summoned in me all the passionate emotions I have experienced during my multiple readings of the play. So here are five reasons why you should take some time to read Macbeth this fall.
1. The supernatural elements are great for your fall/October/Halloween reading list.
Witches, spells, curses, ghosts, visions of floating daggers, murder. Here is a fantastic backdrop for your spooky seasonal reading. "Double, double toil and trouble; / Fire burn, and cauldron bubble" (4.1.10-11).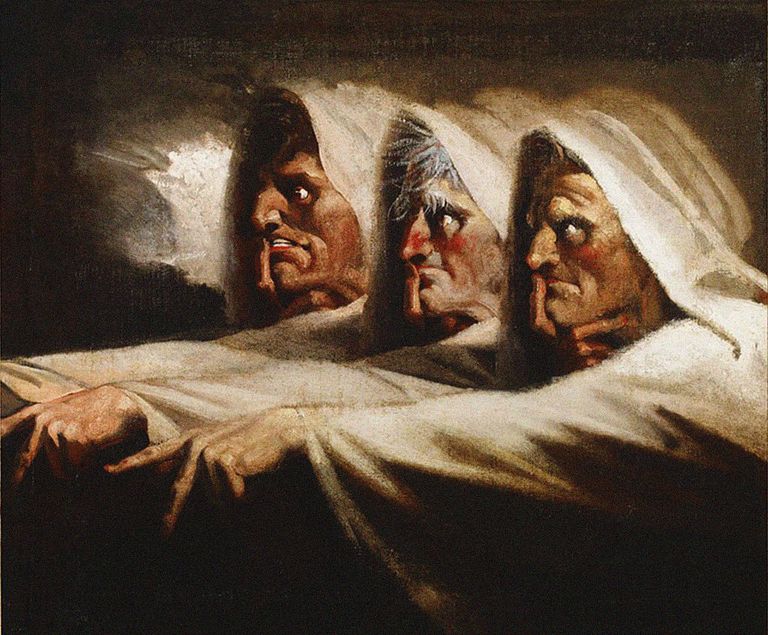 2. The Scottish setting
Scotland is the more rugged, wild neighbor to the north of England. The misty, green landscape is the perfect backdrop to the evil machinations of Macbeth. Though Shakespeare takes great liberties, there is a historical connection to the play's characters.
3. The universal themes
Fate versus free will. The thirst for power. The meaninglessness of life. Here are themes that have been gripping audiences throughout all eternity. Biological determinism is a contentious idea today. Greedy capitalism drives men and women to do unspeakable things in order to get ahead. And sometimes we feel like the arbitrary puppets of a madman.
…[Life] is a tale / Told by an idiot, full of sound and fury, / Signifying nothing. (5.5.30-31)
Basically, Macbeth uses vivid images to examine what is actually in humanity's hearts. Your life might not be surrounded by royal bloodshed, but it does not mean that a battle doesn't rage just below the surface of what's seen.
4. The enticing plot
From the very beginning of the play, Shakespeare's plot moves quickly from royal prophecy to bloodshed to massacre to madness and finally to its gripping conclusion. Don't be fooled by the fancy language; this is a fast-paced story!
5. The brilliant writing
Books have been written about Shakespeare's contribution to language. He is responsible for penning new words and phrases that are still in use today. His ability to express the depth of the human experience in profound ways is unparalleled. Yes, it may be difficult for the untrained reader, but keep at it; there's treasure to be had. Here is the expanded passage of the lines already quoted above, my favorite of the whole play.
Tomorrow, and tomorrow, and tomorrow,
Creeps in this petty pace from day to day
To the last syllable of recorded time,
And all our yesterdays have lighted fools
The way to dusty death. Out, out, brief candle!
Life's but a walking shadow, a poor player
That struts and frets his hour upon the stage
And then is heard no more. It is a tale
Told by an idiot, full of sound and fury,
Signifying nothing. (5.5.22-31)
6. The great adaptations
Okay, so perhaps I can't speak immensely into all the adaptations because truthfully I've only seen the Michael Fassbender film. But I really enjoyed the interpretation. I felt that Fassbender played the part well, the cinematography was top notch, and only the original dialogue was used. It was a great treat for the class I was teaching last year. However, I still need to check out other adaptations.
Finally, if reading Shakespeare is daunting, I highly recommend the Folger editions of the texts. On the right page is the original text, but on the left page are thorough notes to help with more challenging words and phrases as well fascinating factoids.
So, what's your favorite Shakespeare play?